The Book: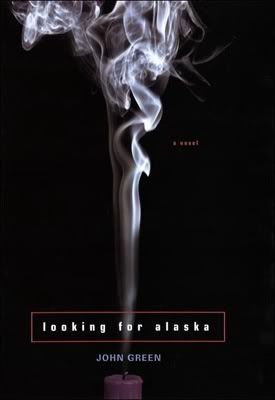 I finished
Looking for Alaska
last night and oh my goodness it was amazing! I couldn't stop thinking about it, it really pulled me in.
I almost cried at one point too.
It has everything a teenager could want in a book;
A cute boy to adore
A sob fest
Romance
OH, THE HUMOUR
Intelect and substance.
I would like to purchase said book, soon hopefully, but i guess i can't re-read it until i finish my never ending list of other books.
The Author:
John Green is amazing, as is his brother; Hank. I love their vlogs and their whole nerdfighter group. They're just awesome in general. If you like politics,
Harry Potter
, intelligence, or any other nerdy stuff, you'll like Hank and John and the brotherhood 2.0 project they have on youtube.
In Other News:
Ok, so i think that this 'in other news' segment will be a regular part of my blogs.
I have almost finished my PE assignment for tomorrow.
I still havn't got an ideas journal :(
I had Drama ensemble today and it was great! we're doing a musical and Vienna taught us an awesome floor-slidey thing.
Dancing with Joey tomorrow!
Someone outbid me on ebay for

Paper Towns.
BIRTHDAY LIST SO FAR.
NIKE HIGHS
An Apple macbook... pro i think? or a HP tablet PC, my cousin is helping me decide
Indiana Jones (The Graphic Novel) from borders.
Flight Of The Conchords on DVD.
THE PURPLE ZEBRA STRIPED OVER-ALLS from general pants in the city.
An ideas journal... but i'd have to choose that myself :)
Stick-It on DVD.
To have no assignments and just skip ahead til after the School Certificate :].
A polaroid or Holga camera.

The Dark Night

on DVD.
The famous people signed things at b-town and ezydvd at parra, people i would like include:
-Heath Ledger
HECKYEAHH.
-The
Friend's
Cast
-The
Charmed
Cast
-Rupert Grint
-Johnny Depp